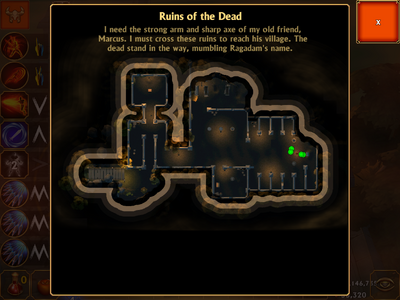 Ruins of the dead has been a cemetery that served to prevail undead. When Ragadam came, however, it serves as a great speaking spot for skeletons and undead.
Mobs include Skeletons, Skeleton Archers, Zombies, Reapers, and 1 Summoner.
3 small chests
1 locked chest
This is the second level of the game, with one of the shortest landscapes.
It is the first level to feature 'ambush spawns' on various points of the map, that can be found in later levels very occasionally.
Ad blocker interference detected!
Wikia is a free-to-use site that makes money from advertising. We have a modified experience for viewers using ad blockers

Wikia is not accessible if you've made further modifications. Remove the custom ad blocker rule(s) and the page will load as expected.