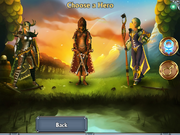 Referring articles:
Edit
Important article for veteran players: Endgame Edit
Hero classes
Edit
In Eternium you can fight with 3 different classes: Warrior, Mage,Bounty Hunter. You can also choose if it will be male or female, and name your character.
Each hero class is special and have its own Abilities, Sets, Items, Weapons and strategies.
Every single classs has its own special abilities and gear looks.
You can only have a total of 5 heroes in your Heroes page. For example, you can have two Warrior, two Mages, but only one Bounty Hunter as you're limited at 5. You begin with only two slots, and need to spend gems if you wish to open up more hero slots.
Edit me
Edit me
Bounty Hunter
Edit
Edit me
Abilities
Edit
Warrior skills are mostly damage and offense based but melee-based defensive skills are also present. He's using both of these (passives and utility) to gain massive combat advantage from the battle he couldn't get without his abilities.
The damage is moving around average numbers, but that's not the problem because Warrior can easily convert any type of ability into his use by focusing on the right build.
Mage skills are nature based and have huge damage output on higher levels.
Mage skills are regarded as the strongest, but if conclusion, they aren't. Their damage is still average, when taking all into consideration. However, Mage is a class that can benefit from high damage and low toughness, mainly in one-to-one combat, making his abilities extremely important. Atwast to stunning the targets that are making offense.
He can easily live on with using only basic, but crucial, Attack abilities, that are one of the easiest to kill down massive groups of enemies at the lowest time.
Bounty Hunter
Edit
Bounty Hunter's abilities are mostly power and offense based, which he can gain him amazing battle experience, overall.
These skills are not really special when compared to others, but they can easily give out high damage with proper distribution of points and better builds.
He can obtain various bonuses when being able to run faster and make his way through the restless dead.
New 4. class was confirmed in 2018 - Spirit Walker.